More Exciting Mexican Fun with Lucha Libre 2 at Slotastic
Slotastic can be accused of being the follower it is always the leader in everything that it does and offers. And today the casino is yet again the leader with the launch of the brand new Lucha Libre 2 Slots game with a special offer that guarantees players will try out the game. Players who have already made a deposit at the casino this month will benefit from 50 free spins on the new Lucha Libre 2 Slots game at Slotastic between the dates of April 18-30. And after receiving this bonus the player will also be eligible to receive a further 100 free spins using the code LUCHASEQUEL.
Colorful and Exciting Free Spins and Re-Spins
Lucha Libre 2 is a colorful and exciting Mexican themed game that follows the extremely popular game of the same name. In this new version of the game there are five reels and thirty paylines. Players can enjoy free spins and expanding wilds and lots of extra features. The wrestler is wild and when appearing on the middle reel he can expand to cover the whole reel and as a result offer the player a multiplier of up to 10x and in addition the wrestler can be seen jumping to other reels giving the player more winning payouts. There are two scatter symbols that lead to two special bonus games. The mucho mayhem scatter rewards players with the time to rumble free spins games where the player chooses his fighter and watches as the fight takes place. If the player chose the winning fighter he receives 10 free spins with a 3x multiplier and if he chose the losing fighter he still wins 10 free spins but with a 2x multiplier. The Fist of Fury free spins game is triggered with three or more of the fists appearing on the screen and in this case the player wins re-spins that can provide him with some fantastic payouts. Enjoying this game goes without saying and it is a matter of luck seeing how much the player can win with all the generous free spins given from Slotastic to mark the launch of the game.
Why Real Time Gaming Rocks
The world of online casinos continues to explode and they continue to amaze us. Each online casino has their special brand of online casino games that are powered by special gaming engines. One such special gaming engine, is none other than Real Time Gaming. Next to Wager Gaming Software, Real Time Gaming has been on the block for a long time, and for that matter, they been around the block and then some many times. They continue to be the innovative force, and the measuring stick in which modern day, five reel slot games are measured by. Real Time Gaming excels in delivering visually stunning five reel games that are nothing short of visual masterpieces. To help bring these games to life, Real Time Gaming calls on the power and the prowess of the flash engine. Flash makes it possible to stream these games, including the popular Lucha Libre 2, either on your computer via the web browser, or you can download them to your computer, or the mobile device of your choice.
Lucha Libre 2 - The Body Slams Continue
There is wrestling, and then there is the famous, Mexican style of wrestling. Step back into the wrestling ring, with Lucha Libre 2, the body slamming sequel to the hit slot game, Lucha Libre. Once more, the legendary wrestlers from Mexico, grapple for supremacy. Once more, the two contending wrestlers serve as both wilds and expanding wilds. They also have the power to leap onto other reals which can lead to even larger wins. The winning multipliers can range from two times to 10 times. The sequel has two worthwhile scatter icons as well. All of the game icons center on the world of wrestling. And once more, there are great bonus rounds including the time to rumble feature, and fists of fury feature.
Some Of The Best Online Casinos To Play Lucha Libre 2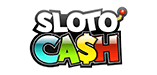 Lucha Libre 2 is such a smashing success, that there are many online casinos that host it. One such casino is Sloto Cash Casino . Sloto Cash Casino has well over 100 games, many of them jaw dropping slot games. Real Time Gaming is the gaming engine that brings these game to life, including the grappling sequel, Lucha Libre 2. There is a strong compliment of table games, including classic blackjack and may blackjack versions. In addition to blackjack, you have American and European Roulette. There is even French Roulette to go along with craps, Sic Bo and many specialty games like Keno and Bingo. There is even an entire section for scratch cards games. For video poker enthusiasts, there is also a section just for video poker.
There are tremendous welcome packages for new members, including the $7,777 welcome package. In fact, this welcome package has multiple matching bonuses for your deposits. Regular members are free to indulge on weekly bonuses, most notably, the 25% cash back bonus. But there is also more on the promotions front, including the free casino bonus worth a $1,000 for playing select, classic games and table games. There is also a special high roller bonus in the form of a 400% matching bonus. There is also a VIP section that pays extra dividends in the form of comp points to be used on games like Lucha Libre 2.
Throw in generous ways to bank including traditional credit and debit cards. Neteller and Skrill can be used too. And for any questions or concerns that might arise, the customer support team is always standing by to answer any questions that might arise. There is also a help section here.
Planet 7 Casino Has Lucha Libre 2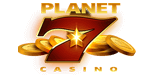 Another great casino to get in on the action for Lucha Libre 2, is Planet 7 Casino . Quite simply, Planet 7 Casino is on its own planet with its own special slate of games, including Lucha Libre 2. Real Time Gaming once more is the proud gaming engine that makes all of these special games go. When it comes to the slot games, its hard to go wrong with the likes of Cash Bandits and Cash Bandits 2, two crime themed classics that puts you into the shoes of a master bank robber. Celebrate Halloween everyday of the year with Bubble Bubble and the pleasant sequel, Bubble Bubble 2.
Planet 7 Casino is also on its own planet thanks to its blockbuster slate of table games. You can never go wrong with classic blackjack, along with many blackjack versions like Super 21, and European Blackjack. When it comes to roulette, play another planet with American and European Roulette. Baccarat, and specialty games like Keno and Bingo are also available. When it comes to poker, there are fan favorites, and an entire section just for video poker fans.
And to help you get onto this very special planet of great games and more, Planet 7 Casino has many and easy ways for you to bank. You can use major credit cards and the e wallets like Neteller and Skrill. Bitcoin, the world's most popular crypto currency, is another great option for you to get into the game. With Bitcoin, just choose the Bitcoin wallet for you, and you're off to the races. Not to be overlooked are the tremendous promotions, including the welcome package that is dare we say, on its own planet. There is a 250% matching bonus for regular members. And depending on the month, there are exclusive slot game promotions. There is even exclusive VIP promotions for those in the exclusive club. And for whatever you need, the customer support is staffing by to help you in that regard.
Red Dog Casino Hosts Lucha Libre 2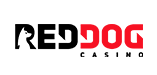 Welcome to Red Dog Casino , where the dog always has a bone, and that bone is Lucha Libre 2. Real Time Gaming is proudly at the helm here with scores of blockbuster games, mostly in the slot category. When it comes to the slot games, Achilles is a game of choice which takes you into the heart of the Trojan war. The battle of Valhalla rages on with Asgard slots where father Odin takes center stage, along with his God children. And when it comes to the table games, there is classic blackjack and many blackjack variations. There is American and European roulette along with the timeless game, baccarat. The specialty games are Keno, Bingo and scratch card games.
And to help you get the most out the games, including Lucha Libre 2, there are many tremendous promotions. Starting off on the right foot, there is a welcome package with a 225% matching bonus. There are also tremendous monthly promotions for slot games including free spins. Credit cards and Bitcoin, helps you to get into the game easy and fast when it comes to your deposits. Getting the help you deserve, has never been easier. There is an extensive help section, including a terms and conditions page which breaks down the bonus requirements and play through requirements. And for anything else and for other concerns, you can always get in touch with the customer support staff anytime of the day for the help you need. There is a section for those who want to become affiliates.
Silver Oaks Casino Body Slams With Lucha Libre 2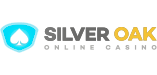 There are online casinos, and then there are stately online casinos such as Silver Oak Casino . Silver Oaks Casino has been around the block or two, due in part to their strata of premiere slot games including Lucha Libre and the Irish whip sequel, Lucha Libre 2. Asian themed games are more popular than ever, and that is so true when it comes to Storm Lords, a visually stunning game that gives Final Fantasy a run for its money. Jackie Chan makes its presence felt with many of his slot games on full display here. Don't overlook the table games with many blackjack and popular blackjack titles. American and European roulette are also a force here too. Poker is in the house at Silver Oaks Casino, so much so that there is an entire section just for video poker titles. There is a good amount of specialty games.
When it comes to the promotions, new members are more than welcome with 100% matching bonuses on your first and sixth deposits for a maximum value of $10,000. Veteran members can indulge in sizzling weekly promotions, including free spins bonuses to be used on select games. There are weekly bonuses, re deposit bonuses and weekly bonuses too. Silver Oaks Casino also offers cash back bonuses and special perks and benefits for members in the VIP club.
And for any questions that might arise, you can always get in touch with the customer support staff who are standing by 24/7, 365 days of the year. For faster service, there are sections for help to find the info you need, including terms and conditions for the promotions. There are many banking options including major credit cards and Bitcoin to make your deposits.
Lucha Libre 2 Is Available At Ruby Slots Casino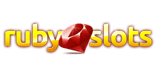 Sparkling and proud, Ruby Slots Casino has got all the games you need, including Lucha Libre 2. Scores upon scores of slot games, powered by Real Time Gaming are up and go. When it comes to the slot games, you can look forward to the likes of Enchanted Garden and the enchanting sequel, Enchanted Garden 2, where both games invites you to take a walk through a magical forest, complete with fairies, magical fireflies and other magical works of life. There are even whimsical free spins rounds.
Ruby Slots Casino delivers the goods when it comes to the table games. Blackjack is here to stay, along with blackjack favorites include European blackjack. There are numerous poker titles, along with a section just for video poker titles. And don't forget about the specialty games at your beck and call.
Ruby Slots Casino wants you to win and to win big when you play. That's why, there are many promotions, including multiple welcome packages to be used for slot and table games. And for regular members, there are great cash back bonuses that range from 100% to 200%. There are five different levels in the VIP rewards program. Each level comes with its own set of perks and benefits. And like always, the customer support team is standing by 24/7, 365 days of the year to help you with your banking and accounting needs.
Games Most Like Lucha Libre 2
Lucha Libre 2 brings all the pomp and circumstances from the hit game Lucha Libre, but what are some of the great slot games that takes you into the square circle? Let's read and see.
Nacho Libre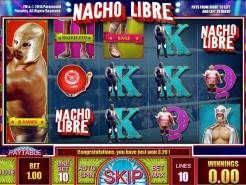 The proud wrestling tradition continues with Nacho Libre, a body slamming, five reel game with 10 pay lines, that showcases the absolute best of Mexican wrestling. Enjoy the top tier wrestling icons that clothesline and body slam the competition for big time rewards. The free spins are fantastic here too. In fact, there are two types of free spins to be played here. You can choose either the one with 15 free spins to go along with a wild as a whole tower, or the one with 10 free spins where your wins are tripled. Land all five wrestlers on the pay line to win the game's jackpot.
Become A Lucha Legend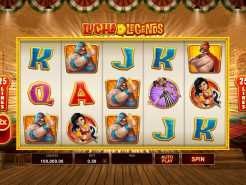 Have you ever wanted to become a luchador? Well now's your chance thanks to Microgaming's smash hit, Lucha Legend slots, a dynamite five reel game with 25 pay lines dedicated to the legendary masked wrestlers from Mexico. There is a super wild which can happen at any time, can triple your wins. There is also the power up bonus round and some dynamic free spins round.
Hulkamania Is Running Wild
The immortal Hulk Hogan himself has a wrestling slot game in his honor. As the name suggests, Hulk Hogan dominates the game with many icons being in his honor. And yes, there is a golden wild, for if it lands, witness the Hulkster himself yell, Hulkamania has gone wild. The bonus rounds even feature Hulk Hogan in a full wrestling match. There is even an arm wrestling match.