Over Half a Million Dollars Won by Soldier at the Jackpot Capital Casino
Jackpot Capital Casino is definitely one of the fairest casinos that there are online today and this was proven once again with the fantastic win by a soldier stationed in Kuwait over the weekend. Michael M who has been a regular player at Jackpot Capital Casino for quite some time was lucky enough to win an incredible $541000 in different stages when playing the colorful Chinese themed slot - Super 6 . Michael is a regular slots player and has been since 2013 and believed that a big win was well overdue. He already has plans for his money, apart from investing in a special Indian bike he would like to go on a cruise and also visit some castles in Ireland. Michael is a soldier deployed in Kuwait and on his return to America he fully intends to enjoy his windfall.
How the Big Win Transpired
Michael or as he is known to his friends, Mikey, is 46 years old and had preferred playing Lucha Libre Slots up until this week when he made his big windfall with the Super 6 slots game. Super 6 slots is an Oriental themed game with 6 reels, there are multiplying wilds and scatters that lead to additional bonus payouts. Michael won his big payouts from landing first 6 scroll symbols that gave him a 10x multiplier ending up to $180000 winnings. This was followed by 6 fans that awarding him $116475 followed by 6 scrolls and a 4x multiplier giving him $48000 and finally 6 of the fireworks symbols with a 10x multiplier that give him $12000. This totaled his winnings of $541000 and after that he decided to take a break and sit back for a while enjoying his winnings. Michael is just one of many lucky players at the Jackpot Capital Casino where players can enjoy generous welcome offers and ongoing bonuses that compliment all the deposits made and in addition they benefit from full time customer service and support at all times of the day and night. Playing casino games at Jackpot Capital Casino proved to be very lucrative for Michael and he will continue playing here once he has taken a break.
Jackpot Capital Casino Takes No Prisoners
There are online casinos. There are tremendous slot games with big jackpots. And then there is the one to rule them all, and it goes by the name of Jackpot Capital Casino. Jackpot Capital Casino doesn't wear out its welcome, due to their superior lineup of slot games with you guessed it...jackpots. Before we talk about the incomparable slot games, it bears repeating that there are many great table games can give you the jackpot experience as well. Through in a strong banking options, attentive customer support and promotions, and you have the phenomenon known as Jackpot Capital Casino that is going strong. Real Time Gaming is the gaming engine that brings all these games to life.
Bring On The Games
It bears repeating once more that Jackpot Capital Casino is serious about their games. There is well over a hundred games for you to fall in love with. Once such game is Cash Bandits and the wildly popular sequel, Cash Bandits 2 Slots . Both of these games dispel the notion that crime doesn't pay because it most certainly does. You take the mantle of a master bank robber who is out to plunder one helpless bank vault after another. Tread lightly, for you don't want to get caught by the police. And yes, there are bank vault bonus rounds where you get paid for successfully breaking into the vaults. There is also a well to do free spins round which further adds to the mystique of the master bank robber.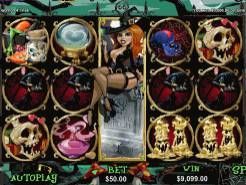 Make everyday Halloween thanks to Bubble Bubble and the pleasantly beautiful sequel, Bubble Bubbles 2. Both games follow the enchanting and the beautiful, Winnie The Witch. She is ready to conjure up the right winning spell which leads to big time wins for you on the reels. Both of these games feature multiple bonus rounds. In fact, there are three distinct bonus rounds. The first one is known as the Wild Witches Feature. Here you will play with nine free games. Should Winnie The Witch land, she will cast a spell on either one or two reels.
The second bonus round is known as the Bewitched feature. Here, you are granted seven free spins with Winnie the Witch taking up the middle column. In the Great Ghosts Feature, you are given 20 free spins where up to nine wild ghosts floating around the reels for big time wins.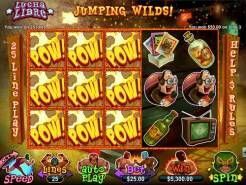 Put on your wrestling boots with Lucha Libre and the body slamming sequel, Lucha Libre 2 . The famous, masked wrestlers from Mexico takes center stage. Hear the crowd go wild with dual wilds and expanding wilds. There are multiple bonus rounds, including the ready to rumble feature where you have to pick the right moves to finish off your opponent. In the fiery masks of doom, random wrestling masks are added to the reels for your free spins, which can lead to even larger wins. All the icons are about wrestling with championship belts and guacamole as well.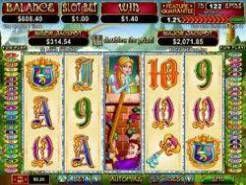 Finish your own story book ending with Hairway To Heaven. Hairway To Heaven is a five reel slot game where the fairy tale is you. Taking up after the Rapunzel story, it is up to you as the handsome prince to save the trapped princess with long, blond hair in the tower. In regular game play, when the princess lands, she will expand over the entire third reel. The prince is the key to play from either one or three bonus rounds. The first feature is the damsel in distress. In this mode, you will play with 8 free spins where the prince may land on the second, third and fourth reels. You can also amass more free spins in this mode as well.
In the princess pays round, you start off with 10 free spins. The princess will triple wins, and one will and additional free game in the process. And in the Hairway To Heaven feature, you will play with either 5 to all the way to 20 free spins. The princess covers the entire third reel. Also, the winning multiplier will grow by a factor of one.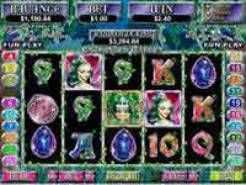 Dare to take a walk through a magical forest with Enchanted Garden and the pleasant sequel, Enchanted Garden 2. Both of these games takes you into the heart of an enchanted forest complete with magical fairies, fireflies and other spirits. The free spins are magical with special symbols being made available to you. Your wins are also tripled in the free spins round. Not to be overlooked is the progressive jackpot that can be won at complete random.
Jackpot Capital Casino Knows Promotions
And to help get the most of these one of a kind games, Jackpot Capital Casino doesn't pull punches when it comes to the promotions. For newcomers, there is a welcome package with a 100% matching bonus worth up to $1,000. And to help you out, they are adding 100 free spins to be used for the hit game, Achilles. The bonus code to enter at the cashier is JCWELCOME.
Everyday, there is always something going from a promo standpoint. For example, Wednesdays helps you get over the hump with 40 free spins to be used exclusively for Enchanted Garden slots. The minimum deposit with this game is $45. There is a 60 times wager requirement before you can withdrawal money. Wednesdays are also full of surprises too. It is simple. Deposit at least $25 to put yourself in position on the list to win up to $150 in bonuses.
Tuesdays here are worth your while, thanks to the $100 bonus for mobile device users. If you are playing on your mobile device on Tuesdays then you just might make the draw. You must deposit at least $50 and wager at least 500 bucks. Experience Saturday Night fever with a variable matching bonus. Depending on how much you deposit, the matching bonus will grow in increments. If you deposit $400, then you will get up to $1,000.
Fridays offer a bonus draw. In addition to the matching bonuses, there are cashback bonuses as well. Depending on how active you've become with your wagers, you can stand to gain up to a 25% cashback bonus. And every month, there is a game of the month promotion. Right now, the game of the month is the smash hit, Bubble Bubble 2 Slots . With this promotion, you stand to double up your comp points to go along with a $1,000 bonus all the way through the end of Halloween. The minimum deposit is $45.
Speaking of comp points, the more you wager, the more comp points you will amass. Comp points can be redeemed later for cash. They are also your key to moving along through the VIP club. There are five different levels in the VIP club. Each level comes with its own set of perks and benefits. The top level is the VIP Elite level. VIP members enjoy exclusive promotions, lowered wagering requirements, personal managers, depending on which VIP level you are on.
As you can see Jackpot Capital Casino takes their promotions very seriously. They have something for all caliber of members to help you make your own jackpot with the slot games.